About The Stoneware
All our stoneware is made in the UK and expertly hand-crafted. We are a family based business, and focus is placed on providing unusual and interesting designs at an affordable price.
Each design is individually made using local materials and traditional methods. The hardiness of their construction enables outdoor display whatever the conditions.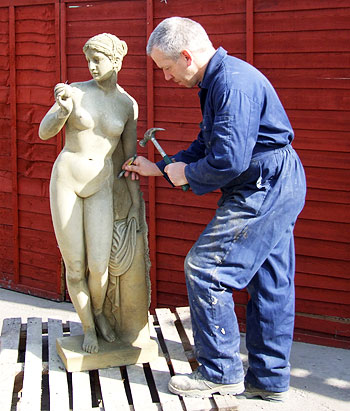 There is a huge, diverse range of over 400 garden ornament and statue designs to choose from: Traditional and contemporary statuary; finials; obelisks; plinths; urns & planters; troughs; seating; sundials; birdbaths; fountains; plaques and animals.
Most items are available in Aged Cotswold and Burnt Umber. Aged Cotswold gives a more weathered appearance; Burnt Umber provides a more striking colour.
Get in Touch
We'd love to hear from you. Whether it's opinions, criticism, praise, suggestions...anything. Use our Contact Form or email us direct on info@gardenstatueshop.co.uk